Hello, dear readers!
I'm late behind, can you imagine I've totally missed the start of our new challenge at
Aurora Wings Challenge Blog??
It started yesturday, with our alltime favorite theme
"Anything goes"!
A collaeguae of mine gave birth to a little baby boy a while ago.
My other colleagues and I made a visit on her, and for this cause, we wanted to take a little present with us.
So I created a "Muffin Box", filled with some baby clothes (which I rolled, so they look like little cupkakes) and a gift card.
On top of this box, I placed Mitzis supercute "Whimsical Cupcake Sprite".
I chose the colors matching to the baby clothes inside, and of course, I did my coloring with alkohol markers again (Copic Ciao and Spectrum Noir).
For the top, I made a gap with a Crealies cutting die (Form No.2), and glued a plastic sheet behind.
And around the box, I stamped some little cupcakes :-)
Take a look at all the beautiful examples the other DT - members made for this challenge!!
They are soooo beautiful!!
And, just to remember... our Slow Loris Fundraiser is still running 'til April 3th, and you can make your donations for this cause at this link at the YouCaring website!
You'll get the supersweet Slow Loris Sprite Digistamp for any amount of donating, AND an additional Slow Loris Digi for spending an amount of 10$ or more!
(And....... if we'll reach the amount of 1000$..... Mitzi promised an additional digistamp for all participants of the fundraiser!! Every little donation gets us closer to this goal!!)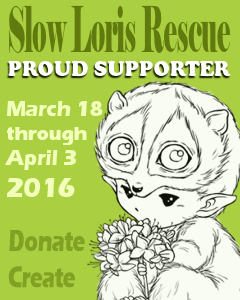 Thank you for stopping by, and have fun!! :-)